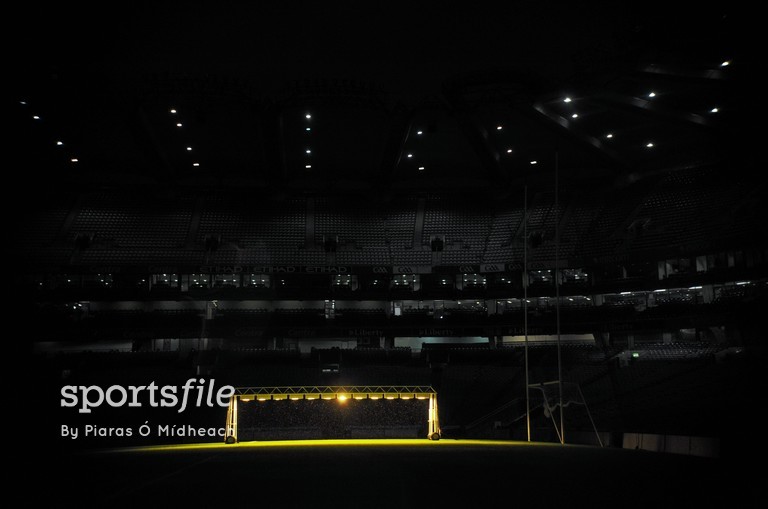 Croke Park at Night.
"This is a picture I took of a very different looking Croke Park."
"It was late on Saturday night on the 2nd of August and I was after watching my native Kildare narrowly succumb to Monaghan in an All-Ireland SFC Qualifier after extra-time, having earlier seen Armagh knock Meath out of the Championship."
"After the players had left the pitch I headed straight into the photographer's room, under the Hogan Stand, to send a celebration photo of Monaghan captain Conor McManus and then got onto going through the rest of my pics from the day to see what I had left to send."
"When I decided to call it a day, I remembered I had some things to gather from pitchside. I walked through the player's tunnel and was greeted by this theatre or stage like setting of Croke Park at nearly ten o'clock at night."
"There was nobody else around, just a weird silence and calm after a busy day at GAA headquarters."
"The pitch lights were placed there earlier by ground staff to try and dry the pitch and encourage grass growth ahead of another busy afternoon of football the following day. It gave the famous stadium a very dramatic look, along with the other lights left on in the Cusack stand."
"I took a few different versions of the scene and raced back into the photographer's room to send them off quickly. Luckily my colleague Seán O'Flaherty, on the picture desk, back at our office in Portobello, was there to send it out and it got published in Irish Independent and Irish Examiner the following Monday and made Sportsfile's A Season of Sunday's 2014."
See the full set of Sportsfile Images of 2014 here:
Recently we showed you 100 of Sportsfile's best pictures from the year just gone. Now we are asking the photographers to give an insight into their favourites and the story behind the pictures.