There's an old posting on adverts.ie for a match programme from 2006.
Longford v Dublin, 4th of June 2006. Pearse Park in Longford. It was sold for a fiver. The photo on the ad is upside-down and the text a bit hard to read, but it looks like they made a €2 profit on it. Still, a bargain.
The description on the ad says 'Dublin's last championship match outside Croke Park. Longford refused to concede home advantage and the Dubs travelled down on a bank holiday weekend in glorious sun shine to seal a 2 point win.'
Longford nearly turned the Leinster Senior Football Championship upside-down that day.
Just under 16,000 people made their way into Longford's county ground. An estimated 10,000 Dublin supporters making the trip down for a rare Championship game for Dublin outside the capital.
Like all good sporting events there must be a Kerryman present somewhere, just to keep things official. Brendan Moran was sent down that day with a few particular tasks in mind as he went to cover the game with his colleagues Ray McManus and Aoife Rice.
Longford brought the hospitality, Dublin brought the fans, and we brought the cherrypicker – well we certainly had access to one.
"Ray had an idea for a panoramic shot. He rang John Bannon, the referee from Longford, who's a good pal of his and John liked the idea of this panoramic so he helped to arrange a cherrypicker through the Longford County Board. I suppose that's why there's a Longford flag on it!"
"Basically my task on the day was to get a panoramic picture to show off the day and Aoife and Ray were covering the action on the field."
"I was shooting on slide film that day. There's a picture of me on top of the cherrypicker holding a light meter actually. But with slide film the exposure needs to be deadly accurate. Not like with digital cameras now or with negative film cameras then, there's no room for error."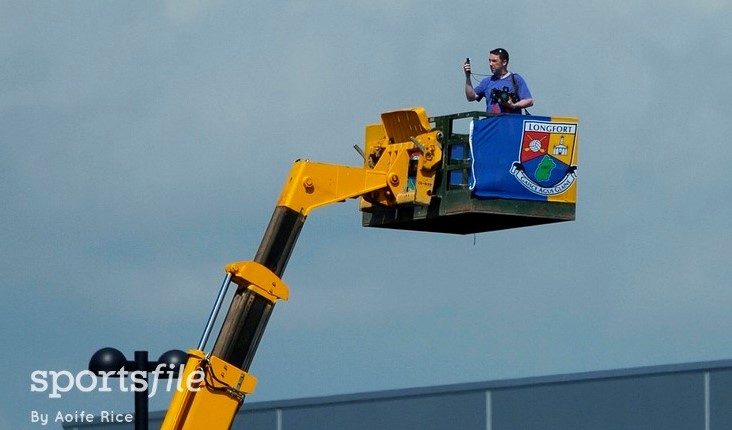 "It was a Fuji GX617 camera we had out on loan, and it only had four exposures per roll of film. Generally the first frame and the last frame of the roll had issues with them, if you didn't load them properly etc. So essentially you were down to two frames per roll of film so you had to time it well to nail it."
"Settings wise it would have only been probably 1/125th or 1/250th of a second so that I could shoot aperture of around F8 to get enough depth of field to get the most sharpness across the frame."
"It was a real awkward kind of a camera. It wasn't like a normal camera. It was elongated and hard to hold. It didn't have a shutter like a regular camera, you kind of had to slowly press the shutter and risked getting camera-shake when shooting on a slow shutter speed, so there was all that to contend with."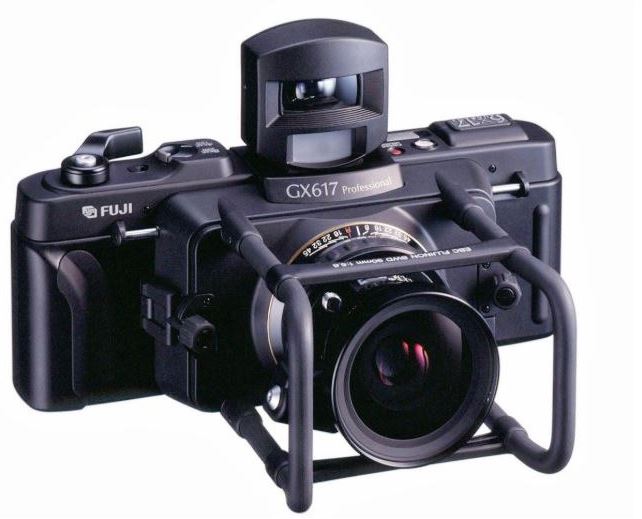 "A lot of the time these types of pictures only worked when it was sunny because on slide film, overcast is not great. It needs the punchiness."
"The cherrypicker itself was parked in the ground, behind one of the goals. I've never seen Longford so packed before, or since, and can never remember much of a crowd behind that goal, but it was jammed."
"I probably spent the whole first half of the game up there and then moved around for a couple of other angles like the TV gantry, on temporary scaffolding, and I did a few different angles from up high before heading back down pitchside – but we knew that was our picture, our main picture."

While Brendan contended with the logistics of the cherrypicker, scaffolding and navigating his way through a packed Pearse Park. Dublin were having their own difficulties navigating their way through the Leinster Senior Football Championship.
Having beaten Longford by 19 points the previous summer, things were much different this time around, and the scoreboard showed them trailing by five points to one after thirteen minutes, unlucky for some.
Luckily for the Dubs, Longford missed some key chances and Mark Vaughan netted for Dublin late in the first half and they had amassed a four point lead by the break.
But Longford kept at their task, reducing that lead to two points by full-time.
"It was different type of day as I'm usually tuned into the game but I had a different sort of job that day. I wasn't really sure of the score, just trying to get to the next place for the next shot. The Dubs weren't as strong as they are now but they had the likes of Alan Brogan, Conal Keaney, Stephen Cluxton, Bryan Cullen, Mossy Quinn – they came close to reaching the All-Ireland Final that year."
"It was a beautiful day, jaysus it was a scorcher of a day now. I still remember coming home we stopped off for ice-cream cones somewhere on the way back from Longford. I don't know where, but we did."
What we would all give now for a tight Championship match in a packed ground – and for a '99 on the way home. Somewhere, anywhere at all.

Photos by Brendan Moran
Written by Piaras Ó Mídheach